Lunch Menus
We are pleased to inform you that Wallenpaupack Area School District will be participating in the Seamless Summer Option (SSO) in the 2021-2022 school year. This program is available to schools and districts as part of the waivers issued by USDA on April 20, 2021. All enrolled students of Wallenpaupack Area School District are eligible to receive a nutritional breakfast and lunch each school day at no charge to your household. This benefit is set to expire on June 30, 2022.
Complete breakfast and lunch meals are free of charge for all students, but any additional items are available for purchase, including milk which is $0.50.
While meals are currently free of charge during the 2021-22 school year, Parents/Guardians are encouraged to apply for meals benefits. This confidential information is used by both WASD and state agencies to determine funding for a variety of programs. Failure to apply for benefits could disqualify your student/family from additional benefits that may be available. Apply online at http://www.schoolcafe.com.
Why should you take advantage of free school meals?
It extends your food budget and save time on meal prepping
It's comforting and familiar for your children to have meals at school
The USDA is covering the cost of the meals, you are not taking meals away from someone who needs it. The meals are free for all students!
Click here for a list of menu items with their nutrients.
Please note: all items are subject to change.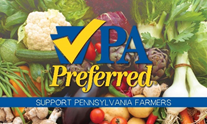 PA Preferred® is your resource for finding locally grown and processed agricultural products from the Commonwealth of Pennsylvania.
Pennsylvania Harvest of the Month (PA HOM) is a program developed by the Pennsylvania Department of Education and Project PA (Penn State University) to promote a local agricultural product each month through schools, child and adult care centers/day care homes, and summer feeding sites. The program aims to provide participants with local, healthy products while supporting Pennsylvania farmers and producers.
We are using PA Preferred and Pennsylvania Harvest of the month throughout our menus for the 21-22 school year.